Coral Guise is an outfit that was added in the v0.4.0 "Log and Load" update in June 2, 2018.
About
It can only be found in the Conch Crate at the Docks and Conch Bunker. It has a pink body and hands and a white (similar to sand) backpack.
Trivia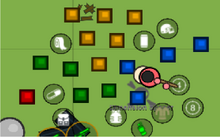 The Coral Guise has about the same rarity as the Aquatic Avenger, also added in the same update.
Up until the Conch Bunker update, the Coral Guise was extremely rare. With the Conch Bunker update, the rarity has lessened.
The Aquatic Avenger and Coral Guise were both released in the exact same update.
These were the first skins that represented any aquatic environment.
The Coral Guise represents coral, a plant that is found in the oceans.